Hatsvali – is the nearest and easy to get ski resort in Svanetia.
If you come to Mestia by plane in the morning, you can check-in in one of numerous hostels leave your staff and go skiing.
No need to bring all the equipment with you. You can rent ski, snowboard, helmets in one of the stores or in hostels. The owner of hostel also gave me a skipass, which works in any resort in Georgia during the whole season. It was issued for another person, there was a photo of a girl. But stuff don't check skipassed in Hatsvali and Tetnuldi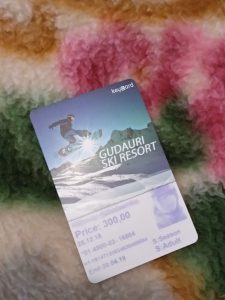 I just put it in a pocket and passed turnstyles.
When I was searching a place to stay in Mestia I reserved the cheapest option in Ushba. the owner wrote me that I can easily get from Mestia to Ushba by a minibus, it's cheap and fast. In fact, when i came to Mestia I found out that it's not so cheap and the road takes 1 hour, so it's better to stay in Mestia if you prefer to spend time for skiing during the day and hanging out in bars during evening time. But if you want to relax, enjoy silence you may go to Ushba, locals tell that the nature is even more beautiful there.
How to get to Hatsvali ski base
There is a cableway which goes from Mestia to Hatsvali resort. You can use your skipass for the cableway.  It takes around 10-15 minutes by walk to get from the center of Mestia to the cable way, you need to cross the bridge and follow the only road.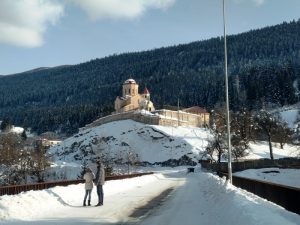 So I put on my snowboard shoes and left to Hatsvali cableway.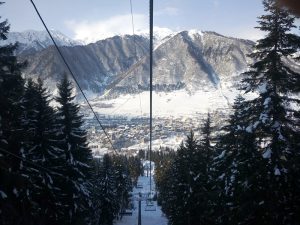 The road  if very beautiful, there is a fantastic view to the Mestia village.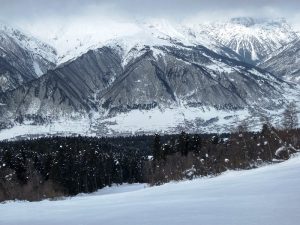 The cableway is modern and fast, with 6-persons seats. It will take to the top of the mountain to Hatsvali in 10 minutes.
Hatsvali hill, relief
Hills are perfect! Large tracks, well-prepared, surrounded by forests.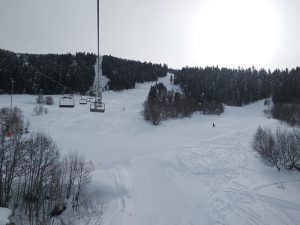 First moments I was surprised how big the base is, and how many tracks it has.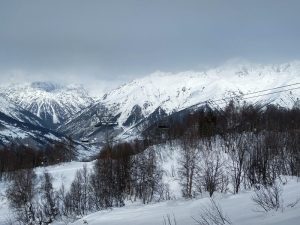 The relief of Hatsvali is various, you can find steep and slope tracks. So it will be interesting for advanced riders and newbies.
The good thing is that there are not many people, no queues. The security is good, you can see police and rescuers on the hills.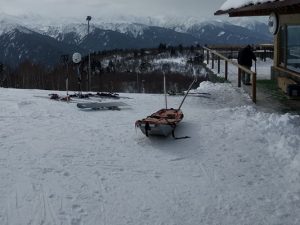 There is a cosy cafe on the top of the base with a fantastic view.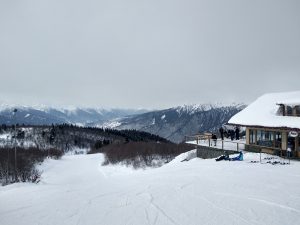 All the cableways on Hatsvali are seat lifts for 406  persons. No tow lifts .
They work till 16.00 (17.00 in weekend) and there is a night ride too.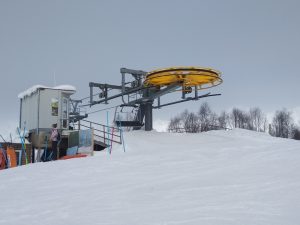 Cafes in Mestia
According to locals the best national dishes (hinkali, hachapuri, shashlyk) are served in Sun-seti cafe, located in the center of Mestia. And I completely agree with them.
But I also recommend you to visit another cafe which is located on the other side of the road. If you come there in evening time you can enjoy caucasian folk music,  coll party with songs and dances (lezginka). This is the best place to chill-out in a friendly company.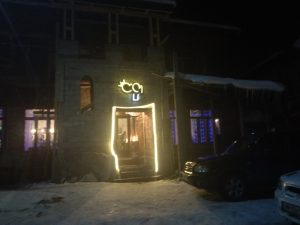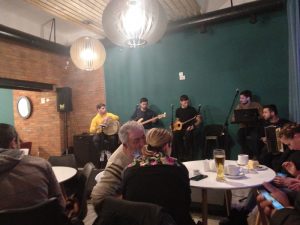 Internet in Mestia
The only thing that I didn't like in Mestia is Internet. It is not stable.
I bought a Beeline sim-card in Tbilisi. It was not working good in Mestia, depending of the place, the signal was appearing or disappearing.
Even in hostels and cafes there is no reliable Internet. There is only 1 Internet provider in Mestia, and sometimes it doesn't work. And the whole village is offline.