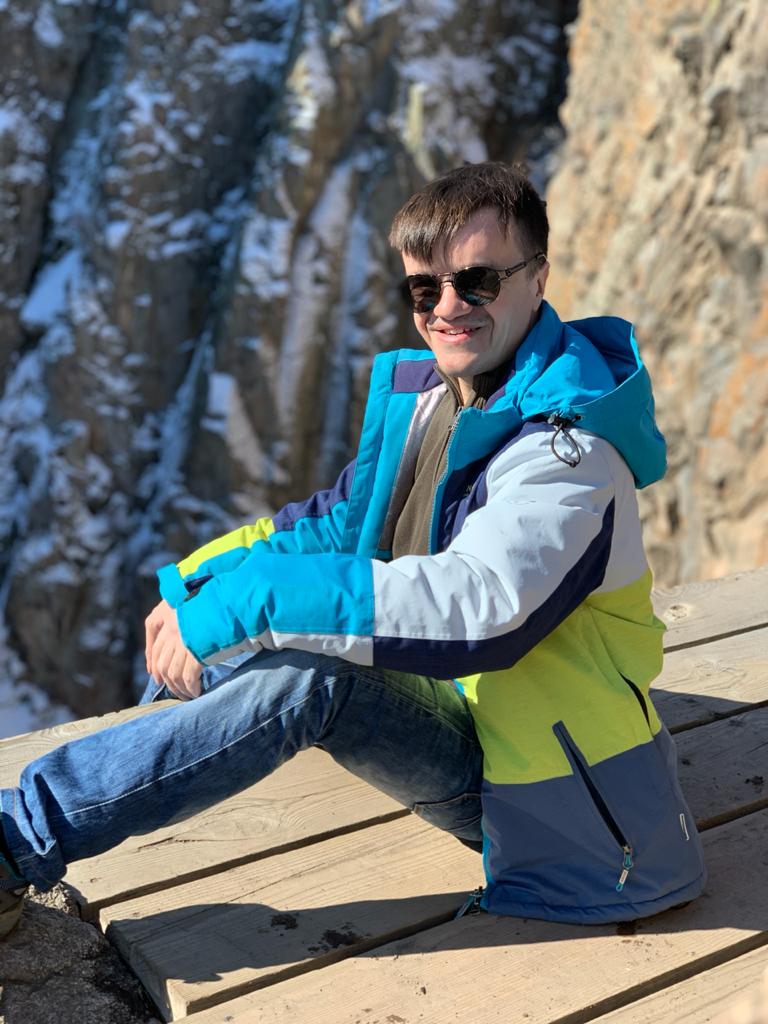 economist, programmer, IT projects manager, banking consultant.
– work in the IT field since 2009 and in the fintech industry since 2014.
– visited 31 countries, studied in 5 universities, lived in 6 countries.
– traveller, polyglot (Russian, English, French, Deutch, Spanish, Kyrgyz), rationalist, naturalist
Cultural diversity is the biggest wealth of this world.
My Bio:
2023 – back in Germany, lived 1 month on a farm, created a website Biohof Kuttenreich, filmed and edited a promo movie; attended 4 healthcare conferences (Berlin, Leipzig, Nuremberg, Lisbon) business development experience; volunteered in HIMSS-23, pro video operator assistant; solo-trip to Morocco, blue city Chefchaouen – one of the prettiest I've ever seen;
2022 – migrated to Germany, received Erasmus scholarship and an invitation to SDU; 1 semester in Germany (ECRI); snowboarded in Chamonix, discovered the famous Mont-Blanc mountain, visited 7 countries (Switzerland, Slovakia, Hungary, Holland, Latvia, Litva, Luxemburg), Rotterdam harbour tour (old dream – to see the biggest harbour); moved to Denmark, winter semester at SDU, engineering faculty; visited 3 more countries (Norway, Finland, Sweden) + 1-week solo road tour in Faroe islands (one of the best trips I've ever had); discovered the aviation world with a brand new DJI Mini 3 Pro, and got a new hobby – aerial video shooting.
2021 – 2nd year of online study. Big travel through Uzbekistan (from Fergana on the east to the Aral Sea on the west); beat my personal productivity hi-score (working in 3 jobs+ studying a full-time degree).
2020 – applied to ECRI to get a degree in health informatics; discovered all the pros and cons of online study. Active work in iRessources, Liveclass.fr project, combining 3 workplaces with the online study. Started to learn the German language.
2019 – solo-trip to Georgia, snowboarded in Caucasian mountains, watched the legendary Svaneti towers, and Elbrus mountain. Visited Mars (ok, it's Iceland), spent 1-week road-trip in a multicultural team (Kyrgyzstan, Russia, USA, Czech Republic) of random travellers; discovered the most beautiful lake in the world (Kelsuu); was invited to the highest position I ever had (Technical Director); my first working experience in a Chinese company;
2018 – left Optima Bank, switched completely to remote work (Liveclass.fr). Passed official TOEFL (score 100). Visited the mysterious Mertzbaher lake (I dreamed about it since I was 16). My 1st "on-the-job" travel: Baykal lake, Buddhism temples, Khabarovsk, Vladivostok, tigers, bears; used to dance Salsa, Bachata, Kizomba.
2017 – career in Optima Bank, learned a lot about payment systems, banking business, management.
2016 – my first managerial experience (department with 18 people under my responsibility), in one of the biggest banks, established collaboration and business processes o the bank with the National Payment System.
2015 – organised a trip to Paris for my mother
2014 – started my career in the banking field, entered the world of banking software and payment systems.
2012 – my first transatlantic travel and a 6-month internship in Chile (near an active Volcano); started to learn the Spanish language.
2011: scholarship for Master's degree in France. I have been applying to this program for 3 years. Visited Paris – childhood dream realised.
2010 – my first air flight
2009: Graduated from AUCA (major – economics, minor – software engineering, got my first full-time employment)

Couchsurfing
I love travelling. But I love hosting people from other countries even more. Back in Bishkek, I hosted more than 40 travellers from CS in my home. And once I have my new house I will return to Couchsurfing :).
Hobby: drones, aero filming/photography
Aerial shooting
I love to observe the world from above