There are several ways, to get from Manas airport to Bishkek.
Let's start from the cheapest one.
Minibus (marshrutka)
When you leave the terminal zone, you will be warmly accepted by a crowd of taxi drivers, offering insistently their services to take you to Bishkek. Especially they are hunting for strangers, who are not aware of  local prices. If you prefer to save money, don't stop, go to the exit.
On the right side from the exit you will find 1-2 minibuses (marshrutka) with a title "БИШКЕК" (=Bishkek).  №380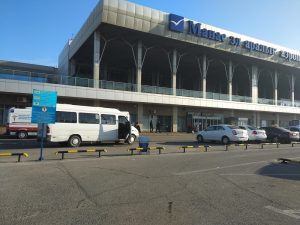 You take your seat and wait other passengers. The driver won't leave before all the seats will be taken. It may take from 15 minutes to 1 hours, depending of day time.
There are no tickets. You pay to the driver in the end of the trip. The price is 50 soms. It will take you to the Osh bazar, which is located in the western part of Bishkek. They call it "Shlagbaum" also. The ride will take 30-40 minutes in the day time, with many stops in nearby villages.
Then from Osh bazar you can take a bus or a taxi to any place of the city. Minibuses (marshrutka) inside the city cost 10 soms per a trip (you pay when you enter, only cash). For a taxi you pay 50 soms for the call and then 10-15 soms per 1 km. Last time I used Yandex Taxi and paid 180 soms to get from Osh bazar to my home on the other end of Bishkek.
If you have a big backpack or additional baggage, I don't recommend you to take the bus, it will be complicated, there is no much space inside. Consider taking a taxi instead.
Aeroexpress
According to the official website, there are shuttle buses from Manas to Bishkek. But I never saw them.
Taxi from Manas to Bishkek
If you still prefer a private car, download one of the mobile applications on your mobile. Unfortunately we don't have Uber in Kyrgyzstan. Namba Taxi, Jorgo taxi, Udacha taxi, Yandex Taxi are the most popular companies.
I recommend Yandex Taxi. Their application has English language. And you can see the price before calling a taxi. From the airport to the southern part of the city (microdistricts) it will be around 500 soms. If you go to the city center, it must be a little cheaper.
You will need internet for this option. Basically, there is a free wi-fi in the Manas airport. But I recommend you buying a local SIM-card in the airport.
Then download one of the applications and call a taxi.
The benefit of this option is the speed (2 times faster) and comfort. It will take around 20-30 minutes to get to the Osh bazar. And then depending of your destination point, daytime and traffic situation in Bishkek it will take from 20 minutes to 1 hour to get to different parts of the city.
Also I recommend you taking a taxi if you have big luggage.
Taxis in the airport
Actually you can go with one of the drivers waiting in the airport.
I don't like this option. Because they can charge higher prices, if they see, that you are a stranger. The normal price is 500-600 soms from Manas to the city center.
There is another reason, that I don't like them. When you seat in the car, the driver most probably will take another passenger. To make extra money. If you're ok with that, go on.
Official taxi Manas
There is a big banner inside the terminal with something like "Offcial taxi of airport Manas". You will see it near the exit. And there will be an officially looking guy with a white collar, he even has a price list "9$ to Bishkek center". Once I tried to use this service. However my destination was 5 km further than city center. He said the the price will be the same 9 USD and took by bag. They always take your bags and carry it to the car. Not because they want to help you (forgive about giving them tips for this). They take your luggage and bring it to the trunk just to be sure, that you won't take another taxi driver on the way to the car.  Anyway, the white-collar guy gave my bag to another guy, in a sport suit, looking like any other taxi driver in Bishkek, and said me to follow him to the car. Luckily in the last moment before the driver put my bag into his trunk, I asked him "9 USD to the Almatinskaya-Ahunbaeva intersection, right?". "No", – he said, – "It will be 11,5 USD".
Luckily when I said "No, it's not ok for me", this driver gave me back my bag without a word. There was another taxi driver right there, more flexible one, he was ok to take me to my place for the 9 USD.
This is the thing that I hate with the drivers in the airport. They are even trying to cheat me, the local one, visitng airport several  time per month!
So be careful with them, this "official taxi manas" is the same cheating service. Always confirm the price with the real driver before the sitting into the car. If you travel in a company ask if the price is for the whole group, in order to avoid something like "price per person" and pay in the end of the ride.
And one more thing – they prefer cash, and don't accept payment cards.
Basically that's all. Have a nice trip and welcome to Bishkek!
Please rate the article :





(2 оценок, среднее: 4.50 из 5)


Loading...
Please follow and like us: