July 5th, 2018 
The day before I was packing my backback after midnight. Packing food all the food, clothes and equipment was not a usual for me task. I'm not an experienced alpinist. And when I tried to lift my packed backpack with carpet, tent and sleeping bag attached to it, I asked myself, what am I doing? How am I going to bring it to the mountain.
The backpack's weight was around 25 kg, 50% of my own weight.
Anyway, early morning we left Bishkek and headed to Karakol.
We were 12 people in 3 cars –  Suzuki Jimny, Mitsubishi Pajero, Toyota Highlander. I was wondered how the 3 cars, having very different offroad level are going to ride together to the destination.
Toyota can hardly reach the places where the well-prepared Pajero can go.
Regarding 
Suzuki Jimny I never met the car before. The first impression was that this little car won't go very far with its stock tyres. But I was so wrong.
We decided to have our last dinner before the trip in a comfortable restaurant.
Karakol is famous for its Ashlyan-fu. It's a cold soup, with a very speacial taste. However if you're going to survive without meat the next week, Kuurdak is the best choice, imho.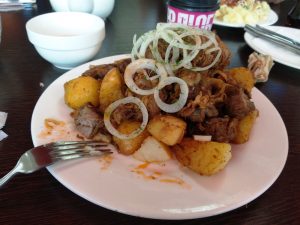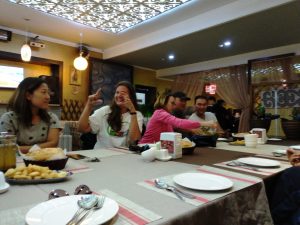 After dinner we had a 1-hour briefing with local guides in the camp about our trip.
Our goal is simple –  to drive by cars as far as we can (as cars wil survive), and then to hike up to the Lake Merzbacher. To be certain up to Merzbacher Meadow, there is an alpinist camp, where we could stay .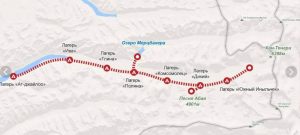 Local guides told us that our cars could hardly reach At-djailoo camp. And the rest way we must hike by the river Inylchek, and then by the glacier Southern Inylchek. Our cars won't be able to cross the river.
So we have a 33km path from At-djailoo camp up to Merzbacher Meadow. 3 days of hiking by sands, stones, rivers and elting glacier.
And the next 6 days we will live without Internet, in 100 km from the nearest  town.
As for me, sounds great)))
.
Please follow and like us: