Today we are going to start our long trip around Iceland. This first day we plan to visit all the sightseeing-s of the famous Golden Ring of Iceland (Thingvellir, Gulfoss waterfall and Haukadalur geysirs) and to stop in Vik for the night. This is the southern point of Iceland.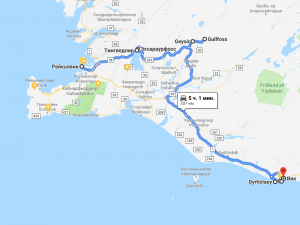 Early morning, Reykjawik, everything is ready for our departure: car is checked, tank is full, luggage packed. We were having our breakfast and waiting for our co-travellers. Julia found them in Couchsurfing. I it was in Russia, I would double check theirs profile. But as far as we are in Iceland, I didn't care much about safety. This is a safe island, with 300K people, thousands tourists. People leave doors open in theirs houses or hide keys under carpets near the door. Stealing ship is the most popular crime here. that is why they are one of the most happy nation in the world.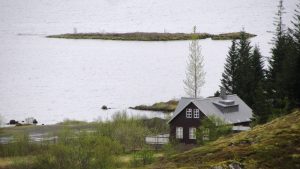 Lida, our first co-traveller from Chezh came to the hostel around 10 AM with a big luggage. We drove off the hostel, and took the direction to the East. Leaving Reykjavik we picked-up Nathan, fireman from USA, our second co-traveler, who was waiting for us on the road.
At the very beginning of the journey, we were exicted by everything. Every new mountain, waterfall, geysir smoking faraway were like a miracle. We were like aliens on another planet.  Iceland's nature was exceeding my expectations. If this is just a beginning, what we will see further?
Dingvellir
Dingvellir was the first stop of our trip. They call it Þingvellir or "Thingvellir". Yes, better to start learning difficult icelandic names.
Basically it was a national park, located on the border between 2 tectonic plates (continents) – Europe and America.  It looks like a giant crack between two rocks.  Like two mountains moved from each other after an earthquake, making this long crack, where we walk today.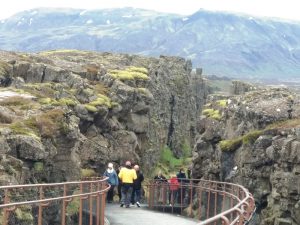 But the best way to see and to touch the border between the two continents is diving in the Silfra. The name means "Silver lady". Divers from all over the wold come to this place to dive into this crack and touch the 2 continents. You can see many underwater caves, fish plants, the water is pure. But it is very cold: only 1–3° C.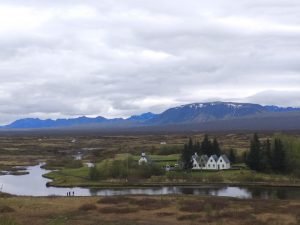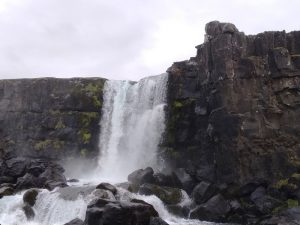 Fans of "Game of Thrones" serie will recognise this place with vertical rocks as Blody Gates. Here are no knights with long swords, standing on the rocks, but the relief of the rocks is very familiar.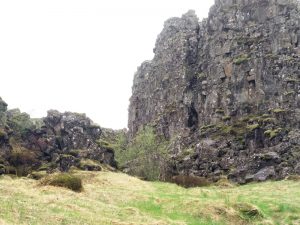 Big Geysir Strokkur
Our next stop is the place, hardly to be found somewhereelse in the world.
Strokkur – is a fountain of hot steam and water striking to 60m up every 5-10 minutes. It blows up from this lake.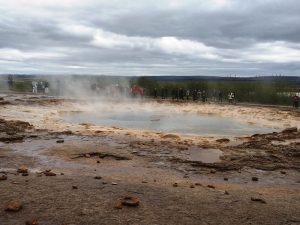 And of course there is a crowd of tourists around the fountain,  trying to picture the Geysir. It is not easy, I would say, because after a shoot, it disappears in some seconds.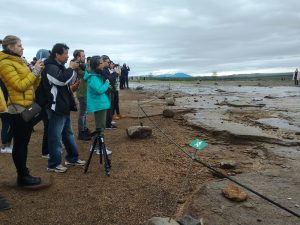 Basically the Big geysir has 2 cycles: small shoot, striking 10-20 meters, and a big shoot striking all the 60m.
I was not successful in making a good photo of the Geysir. After several attempts, I just stoped trying, because you need to wait 5-10 minute for each shoot. And there are plenty of other interesting things around.
Firstly there are several smaller geysirs: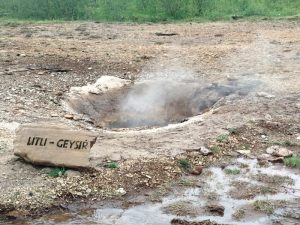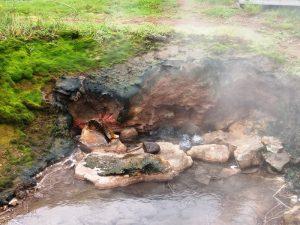 Also you can hike up to the hill and observerve the whole Haukadalur valley.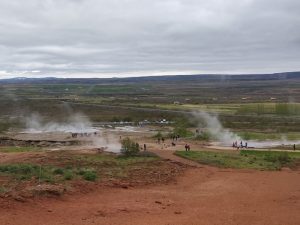 Gulfoss Waterfall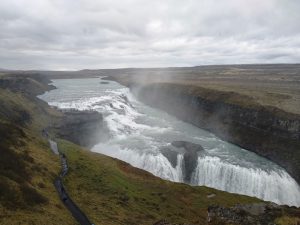 This was our second waterfall today. But  it was much more big and impressive than the first one. You can come close to the water from above and from below to feel  a million drops of its water in the air.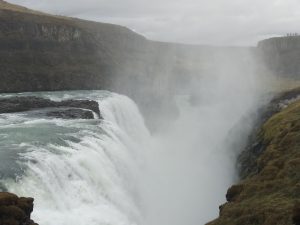 Here are many tourists  as well. They come by this bus-jeeps hybrids. Never seen such huge cars.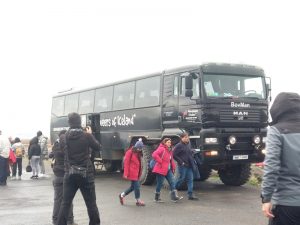 Basically the 3 stops – Thingvellir, Gulfoss waterfall and Haukadalur geysirs are the famous Golden Circle of Iceland. It's the most popular 1-day tour, taking around 8 hours to see all the major attractions close to Reykjavik. Nice option if you have a 1 day transfer in Iceland.
But Iceland is much more than the Golden Circle. And we have taken the course to the southern point of the island – small town of Vik. It is famous by its black sands beach, Skógafoss waterfall and rocks of the strange shape (yes, one more location from the GOT).
Impressed my so many new places, tired, we even forgot to book a hostel.
Waterfalls of the southern shore
The road from Gulfoss to Vik takes several hours. We all were tired after such an active morning. But the nature along the road don't allow you to fall asleep.
Seriously, it's like a chain of beautiful waterfalls along the road. You just pass one and there is another, higher and more beautiful.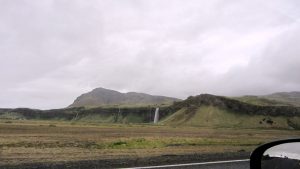 Actually the road goes between a long mountain and the ocean. You don't see the peak of the mountain, it hides in clouds. You only see the waterfalls, falling right from the clouds.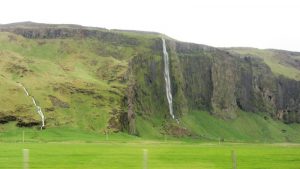 Vik and the Black-sands beach
Approaching to Vik, we realised, that we have no place to stay for the night. We started to search a housing in booking.com and  airbnb, but everything was booked. However I didn't care much. Can't explain why, but I was sure that we will find something.
In the meanwhile we came to the Black Beach.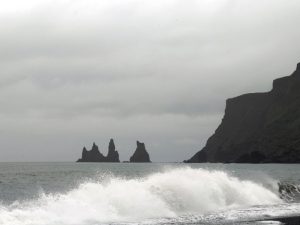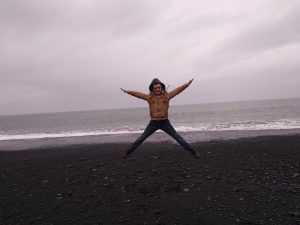 It was raining and we entered in a cafe, located right on the ocean beach. Prices were incredible there:  1 plate of a simple soup costs more than 12 USD!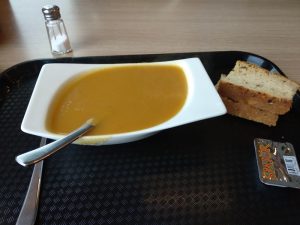 But the waitress were very hospitable.  We talked them about our housing trouble. They  called somebody and in 5 minutes gave us an address. It was the Guesthouse Reynir, that was completely booked according to booking.com. We still arrived there, talked to the housewife and she gave us a great room with the oceanview for a really good price!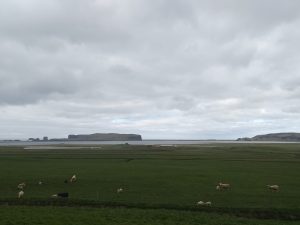 As Nathan said, it was the best hostel in our trip. I can't disagree with him. Born in the Central Asia, thousands km from the sea, I always dream to live in a house with such a view…
This first day, just the beginning of our travel, was the best day, in my view. Because we just tasted a first piece of Iceland, and we still have so much things to see here. This is what happiness is.
Please rate the article:





(Пока оценок нет)


Loading...
—————————-
Nest chapter: coming soon…
Please follow and like us: