I am so glad you have found me!
I am Eldar, a friendly man, a licensed tour guide, with a wide range of experience in organising tours and travels.
As a guide my intention is to help you to discover exotic country Kyrgyzstan and organise and enjoyable vacation with ski\snowboard rides in the over than 7k-height mountains of Tyan-Shan.

On the other hand, I was born in Kyrgyzstan, and I want you to try our famous asian hospitality, delicious local food and exotic culture. Therefore I am pleased to complete my tours with many additional places and sites on your request. Please find some of the additional options on the page "tour options"
.
I offer my tours to groups up to 6 people:

» Tourist groups: during your time in here visiting monuments and natural sites, or if you stay here particularly for some dental care, allow yourself a nice time for both comfort and exreme. And I will be happy to organise you one of the sweetest and most memorable moments of your trip to Kyrgyzstan!
» Families: I know you often dream of wonderful holidays with your loved one and your children. I will do my best to organise this vacation for you, make it safe and fun, so that you received a lot of emotions and sweet memories.
» Couples: many couples allow the stresses and strains of everyday life to enter their relationship, destroying the important fire of emotions for each other. My exotic trip allows you to survive unforgettable emotions of discovering a new exotic country, passing together unforgettable holidays in a cozy romatic house in mountains.

In different ski-resorts, on the snow powder or prepared slopes

I love to personalize my tours so I am always pleased to hear your special requests about activities type, places of interest, your preferences, as well as additional services listed on the page "Tour Optons" or anything else you have in mind.
Normally, without different request from you I organise my tours to show your all the most interesting unique ski-bases worth to try, taste the most delicious national food and try the most interesting activities.
But for your request I am pleased to organise my tour in special ski base, like Karakol, Orlovka, Aksuu. (But please note that it takes more time to get there)
All inclusive 4-day program
What is included:
– housing: house in mountain for a group of up to 5 persons
– sauna (all year), pool (summer only)
– karaoke
– meals
– transfer to ski bases (ZIL, Chunkurchak)
– ski-passes
– hiking tour to Alamedin gorge (+waterfall)
– transfer to Soupara resort
Not included:
– flight from your vacation to airport Manas (we can also meet you in kyrgyz-kazakh border Korday);
– additonal expenses;
– health insurance (in emergency cases like broken arms, broken legs, medical services can be organised: transfer to private clinic, visit to traumatologist, therapist\ general practiotioner – primary healthcare services; transfer, clinic sevices must be paid additionally).
Price: 699 EUR per person (minimum 2 people).
—————–
Booking process:
Select dates + send email (ask questions)
Enter your data (passport names, birth date) + arrival time + pickup location (Korday / airport Manas / other) + additional info (optional: vegan menu, equipment rental, special requests)
Make payment (Paypal, ?Stripe?)
Receive booking confirmation email
Our guesthouse
Our guesthouse is located in the beautiful Alamedin valley.

The village name is Koy-tash, it is 17 km from Bishkek.

The main house (60m2) has 2 levels, with 2 bedrooms on the 1st floor
and a living room with stereo, karaoke on the 2nd floor.
There is a spacious sauna located in the basement.
In addition there is a second building: one floor kitchen and living room (30m2) with panoramic view to the garden.
The kitchen has a BBQ zone, kazan, four, you can observe the process of making local food (plov, sashlyk, manty etc).
In summer time we have a pool with warm water (27-28C).
Sauna, pool, BBQ, karaoke are included in your tour price.
What you should take with you?
– bath accesoires
– ski/snowboard equipment. nfortunately we don't have and ski\snowboard equipment in the guesthouse. Therefore please let us know in advance if you need any equipment for ski\snowboarding.
– warm clothing (2-3 sets, to change).
The clean linen and towels will be provided.
Food and meals
We organise a regular 3-times per day food for you. It will consist of the best national dishes that are worth to taste: home-made plov, kuurdak, BBQ.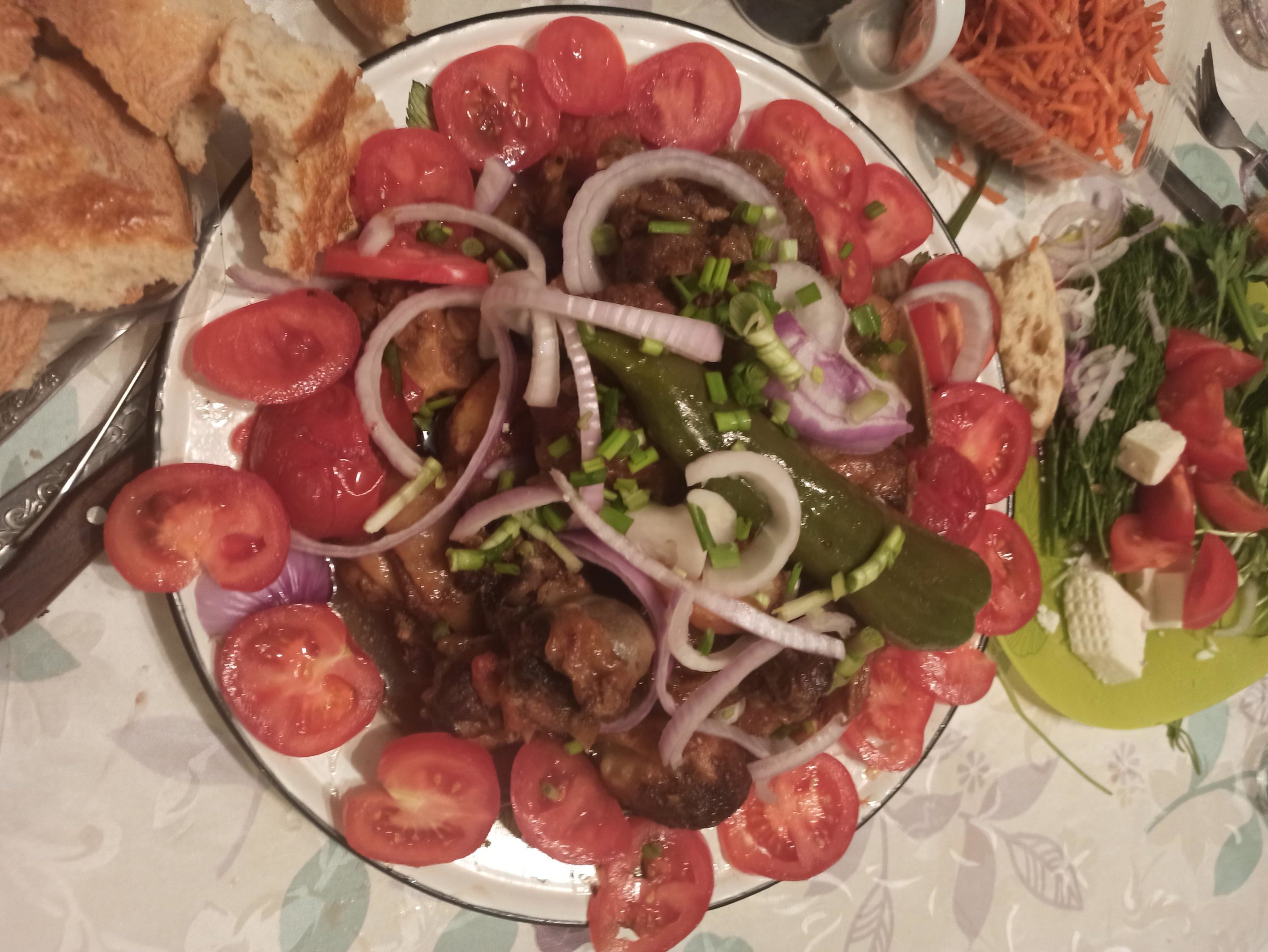 Vegan menu is available upon request. Please let us know in advance your preferences, limitations related to food and we will adjust the menu accordingly.
Transport
There is no public transport, but there are many taxi drivers, which may take you to Bishkek for a fair price.
Therefore for your safety and comfort we arrange a private transfer from the airport to the guesthouse.
The road passes through Bishkek, therefore a city-tour with stops in the most interesting places for photoshooting is included.
The transport costs are included in the tour price.
Price
Group of 4 – USD 1135 Each
Price includes
– Guiding fee
– Accommodation included
– Transport during the trip
– Breakfast
– Lunch
– Dinner
Itinerary:
Day 1:
– arrival to Manas airport, transfer to Bishkek
– Bishkek city-tour, Osh bazar
– Lunch at national restaurant
– transfer to montain house
– Dinner, BBQ, plov;
– Sauna
– Karaoke
Day 2
– Breakfast
– Transfer to Chunkurchak ski-resort 9:00
– Skiing, snowboarding (with lunch)
– Transfer back
– Dinner plov (vegan menu available on request)
– Sauna
– Karaoke
– Entertainning program
Day 3
– Breakfast
– Transfer to ZIL ski-resort 9:00
– Skiing, snowboarding (with lunch)
– Transfer back 17:00
– Sauna
– Karaoke party, dances, free-time
– Entertainning program
Day 4
– Breakfast
– Transfer to Alamedin gorge 9:00
– Hiking to waterfall (12 km)
– Return to the house 17:00
– Check-out
– Transfer to airport (Manas)
— I'll reserve —
Why choosing us?
– We provide all inclusive vacation services,
– we guarantee your security duting your stay in Kyrgyzstan
– we are flexible and open for your suggestions and ideas to improve your vacation. We provide private tours for small groups of up to 5 persons. Additional locations could be added to the program (visiting Issyk-kul lake, Kol'-suu, jeep tours and many other options)
– payment options
– Not only skiing.
– Special ambience: interesting entertaining program, karaoke party, animator. We do our best to make you feel famous oriental hospitality.
– faboulous national dishes, made with love by professional coock (plov, lagman, manty, kazan-kebap)
– modern house located in a small village in mountains with wonderful mountain view, purest air and virgin nature.
About me
I am glad that you have found me! My name is Eldar. I live and study in Europe, this year in Denmark.
I was borned in a small country Kyrgyzstan, located in mountains close to China.
I love snowboarding and travels.
And I love hosting guests, show them my country, talk about history, culture and local life.
We have a guest house in mountains, located near the capital of Kyrgyzstan (Bishkek). We used to spend FRiday evening s there, organise parties, celebrate bortdays and just hang out.
We had lot of guest there from Couchsurfing.
Now I decided to organise a tour for a small group for people from Denmark.
If you are interested. Please make a booking by clicking the button below.
You can also contact me by email, in case you have any questions, comments or concerns. I will be happy to advise you.
You can read references from my guests on my Couchsurfing page.
Sincerely,
Eldar